Representatives
・Chairman: Masashi Yoshida (Manager, Oral and Maxillofacial Surgeons, Sports Dentistry, Imakiire General Hospital)
・Vice Chairman: Hiroshi Ijichi (Chairman, Kagoshima Dental Association)
・Executive Committee Chairman: Tsuyoshi Sugiura (Professor, Maxillofacial Diagnostic and Surgical Science, Department of Oral and Maxillofacial Rehabilitation, Course for Developmental Therapeutics, Kagoshima University Graduate School of Medical and Dental Sciences)
Message from the Conference Chairperson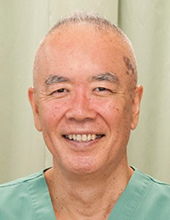 I am honored that we can hold this conference in Kagoshima at the beginning of a new era. In this city 151 years ago, Japan opened the new era of the Meiji Restoration (modernization of Japan).
In Kagoshima City, visitors can admire the majestic figure of the active volcano Mt. Sakurajima. This city is home to many world heritage sites that maintain the character of the Meiji Restoration. Moreover, various natural wonders can be found. Indeed, this prefecture is known for its hot springs, such as Kirishima and Ibusuki, and 28 inhabited remote islands. In addition, visitors can enjoy delicious food made from ingredients grown in Kagoshima, such as Japanese black cattle beef, Kagoshima kurobuta (Berkshire pig), rich seafood, and shochu (spirit distilled from sweet potatoes), and black vinegar. I hope all of our participants will have a lively academic exchange and also enjoy the wonders of Kagoshima.
This conference is held with the cooperation of the Kagoshima Dental Association and Kagoshima University Faculty of Dentistry. The main theme of this conference is "Women and sports, sports dentistry" because the activities of female athletes are remarkable these days. Our secondary theme is "Restoration of sports dentistry, health beginning from the mouth."
Thus far, the main work of sports dentistry has been associated with the research and widespread use of mouthguards. Of course, these tasks remain an important part of sports dentistry, but I would like for us to explore research themes that will further promote "the health beginning from the mouth," which is the original purpose of sports dentistry.
It would be such an honor if you would attend the conference. Thank you.
Event outline
Women and sports, sports dentistry ~Restoration of sports dentistry, the health beginning from the mouth~
June 21 (Friday) to 23 (Sunday), 2019
Kagoshima Prefectural Citizens Exchange Center (Kagoshima kenmin koryu center)
14-50 Yamashita-cho, Kagoshima City, Kagoshima 892-0816, Japan
*Details will be posted on the official website.

June 21 (Friday)

・Various conferences

June 22 (Saturday)

・Special lecture

・Symposium (as a public lecture)

June 23 (Sunday)

・Symposium

・Special lecture

・Lectures by invited guests from overseas

・Luncheon seminar

・General presentations (lectures, posters)